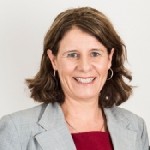 Tracy Wilcox is an Associate Professor in business ethics and management at UNSW Business School and the Academic Director for Postgraduate Programs.
Tracy's research explores how business contexts enable or constrain ethical management action and moral agency. She also has an interest in contemporary virtue ethics.
Tracy is Section Editor for Human Resource Management and Development and Business Ethics of the Journal of Business Ethics.
Tracy is also passionate about business ethics and sustainability education. She has received several teaching awards for her work in this field including the Bill Birkett Award for Sustained Teaching Excellence, the Vice Chancellor's Award for Teaching Excellence, and the UN-Principles of Responsible Management Education Award for Social Engagement She has also hosted a number of industry forums on ethical leadership.
Country: Australia
City: Sydney
State: NSW
Institution: UNSW Australia
Email: t.wilcox@unsw.edu.au