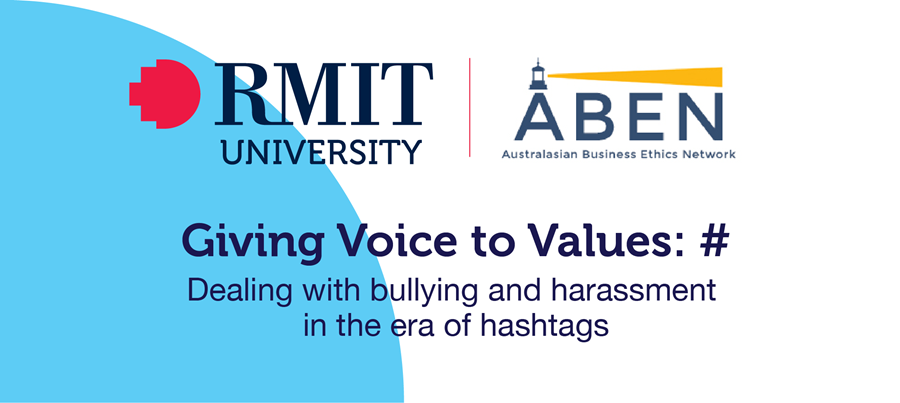 Event overview
Join the conversation with the world renown ethicist Professor Mary Gentile, who developed the Giving Voice to Values approach to ethics at work with Lyn Goodear, the CEO of the Australian HR Institute and Rosie Thomas, the co-founder and CEO of Project Rockit.
The dialogue will address:
– How can business leaders, employees, students or professionals voice and act on their values effectively?
– How can we strengthen our moral muscle and improve our chances of success in voicing our values and being heard?
– How can we take a stance against bullying and harassment in the era of hashtags?
This event is a collaboration between the School of Accounting, College of Business, RMIT University and the Australasian Business Ethics Network (ABEN).
Welcome and Introduction by Professor Steven Dellaportas, Head of the School of Accounting, RMIT University.
Panel Chair: Dr Cristina Neesham, ABEN Secretary and Senior Lecturer, Philosophy and Ethics in Management and Organisation, Swinburne University
Event details
DATE: Wednesday 30 May
TIME: 12noon – 2pm
Registration from 11.45am
VENUE: RMIT University
The Green Brain
Building 16, Level 7
336 – 348 Swanston Street, Melbourne
COST: FREE
A light lunch will be provided.
RSVP by Friday 25 May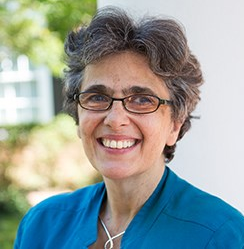 Professor Mary Gentile
Mary C. Gentile, Ph.D. is Director of Giving Voice to Values, a program launched with The Aspen Institute and Yale School of Management and hosted at Babson College for 6 years, now based at the University of Virginia – Darden School of Business (UVA-Darden).
This pioneering curriculum for values-driven leadership has had hundreds of pilots globally and has been featured in Financial Times, Harvard Business Review, Stanford Social Innovation Review, and McKinsey Quarterly.
Mary, is a faculty member at UVA Darden and educational consultant, and was previously at Harvard Business School. She holds a B.A. from The College of William and Mary, and a Ph.D. from State University of New York-Buffalo

Lyn Goodear
Lyn Goodear is the Chief Executive Officer of the Australian HR Institute.
She champions the standards of HR practice in Australia and is responsible for leading change that builds organisation capability for the future workforce in areas such as productivity and sustainability, as well as cultivating workplace cultures that are inclusive, diverse and ethical.

Rosie Thomas
CEO Project Rockit
Rosie Thomas is cofounder and coCEO of PROJECT ROCKIT: Australia's youth-driven movement against (cyber)bullying. Having built then grown PROJECT ROCKIT straight out of high school over twelve years ago, PROJECT ROCKIT has now impacted hundreds of thousands of students. Today PROJECT ROCKIT sends teams of young presenters to deliver face-to-face and online workshops to hundreds of thousands of students. PROJECT ROCKIT is also the go-to youth cybersafety partner of Facebook, Instagram, Google, Twitter and Telstra, sitting on their global safety boards.